eMLi: A Comprehensive Education Management Suite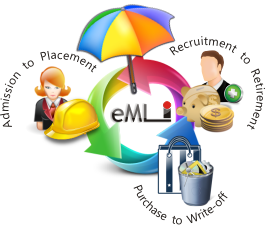 Introducing eMLi: Your Complete Education Management Suite from AuroMeera Technometrix Pvt. Ltd., tailored for educational institutions across India and the world. Our cutting-edge solution automates and integrates academic and administrative processes, yielding exceptional outcomes.
With an extensive array of features, eMLi empowers diverse stakeholders: Students, Parents, Faculty, Administrative Staff, Administrators, Governing Bodies, University Officials, and Government Authorities. This unified software solution optimizes organizational performance by harmonizing functionalities seamlessly. eMLi uniquely offers a centralized technological hub that oversees the entire academic realm.
Engineered for Schools, Colleges, Campuses, and Universities, eMLi thrives on a shared data environment. Having earned acclaim in institutions and governments globally, eMLi is a proven answer to a multitude of academic needs. Crafted with advanced web-based technologies, eMLi guarantees adaptability and scalability, aligning with your institution's evolution and requirements.