An enterprise system such as ERP often requires years of implementation and post implementation and hence it becomes part of business and support strategy. A successfully integrated ERP system can enhance efficiency by supporting an organization's business processes. There are mainly 6 phases on which ERP implementation relied upon –Planning, Design, Development, Testing, Deployment and at last the Training. At this stage of acquiring the output, one cannot afford failure.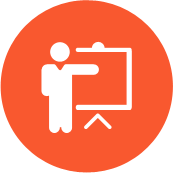 It takes more than 5 years of hard work and dedication to successfully install and implement an ERP which then can be a success milestone for any firm. When the system fails despite all efforts the subsequent losses can exceed the crores of Rupees poured into it. There are many familiar organizations that have witnessed a massive failure in their ERP. But the question is, what did these companies do wrong? The answer some business experts gave was 'training'. Our recent observation and analysis gave us a clear cut conclusion on why majority of ERP system fails? And the reason behind the failure is lack of sufficient training.
Training is the foremost step after implementation which must have to be considered. Software training can have a powerful impact on an organization's usability. When you have an integrated business system, it is vital that everyone is comfortable and efficient with all of the new processes involved, in order to get best results. Without proper training, software users become less productive in their workplace and more likely to become frustrated with their work situation. As the complexity level of the software might increase in future, eMLi facilitates every organization associated with AuroMeera by giving a direction in which proper training can be incorporated.
Considering ease of operating the software, AuroMeera adds a path of training through which every customer can travel to reach at the satisfactory stage. The training path includes the below plan:
eMLi's THREE LAYER free training offered to you along with implementation:
Training to
Clerical Staff

(Routine administrative work) Right from the overview of the software this layer of training encompasses the routine task based working at various level, add/edit/delete of records and workflow mapping with eMLi. AuroMeera Team will make the clerical person work on the software by giving them the access permission to add dummy/real data for the testing purpose.
Training to
Teaching Staff

Teachers play an important role in eMLi. There are certain tasks which are to be done by the teachers or teaching assistants e.g. Taking Attendance, Making Lesson Plans, Swapping Lecture with colleagues etc… At this layer of training every concerned teaching staff will be trained giving them a clear knowledge on the system flow. Thus the in- depth knowledge of the system can be acquired.
Training to
System Admin

System Admin is the central controller of the system and have all the rights to monitor and examine the entire software. System runs through a policy and setting the right policy at right time makes system scalable enough to face runtime exceptions and policy changes. Hence this training layer plays an extraordinary important role in the successful implementation of eMLi and its Automation
---
OnSite Training
Online Training
Using proven methodology
---
Paid On Demand Training
This phase is an investment for an organization rather than an expense. After utilizing all the above three training sessions, if any software user insists to have some extra training sessions for their new staff members even after expiry of implementation phase, they freely would be able to urge for the same.