e-Mails are very effective tool of communication in the present era. They have accelerated communication process replacing ordinary letters. This eMLi module facilitates you sending bulk mails to students to convey any kind of information or notice about their attendance, lectures, events, projects, holidays,exams, class tests etc.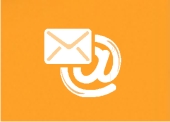 Send emails to employees informing them about their lecture schedules, events, staff meetings, government circulars, or any other useful information. 
Module also allows you to send emails to a single contact when needed, so that a particular contact can be communicated with. Sometimes management passes a circular which is very important to be aware about both for students as well as professors. Bulk mailing system becomes very useful in this case.
The whole academic environment remains active by the small step taken in the direction of communication, which is very resourceful, saves time and makes the management more effective.
Key Functionalities:
Effective communication
Informs students about their activities, tasks & upcoming events
Updates parents regularly about their child's performance
Feasibility of sending emails in bulk at the same
Correspondence by e-letters saves time
Time Saving
Paperless
Successful
---
Notices | Events | Holidays | Exams