Carry out your organization's entire admission process online with eMLi which manages all the functions of recruitment process on a single window of the system, providing much comfort and easiness compared to traditional methods.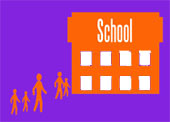 Let your promising students experience an automated management process of the institute which comforts them and makes it easy to choose your institute to pursue education & gain knowledge.
eMLi combines the different segments of the process in the system so that enrollment process can be carried without complexity.
Time consuming traditional methods of admission can be eliminated with the implementation of eMLi where students & parents do not have to wait in queues and administrators do not need to go through hectic schedule of collecting forms, documents and fees and maintain them manually.
Key Functionalities:
Institute information
Offered courses & programs with its duration
Eligibility criteria for admission
Online admission form - generation & filing (multilingual)
Student registration
Acknowledgement receipt & registration login for students
Merit list preparation
Program selection
Online fees payment
Enrollment roll preparation & induction process
Automated process
Online form
Merit list
Paperless
---
Program selection | Fees payment | Acknowledgement receipt