Keeping parents into account as a part of education system in some or other way, eMLi also includes a very important module called Parents Communication. It is designed to help parents to monitor their child's growth & development. eMLi provides a separate parents login with authentic password which helps parents to see various statistical reports of their child.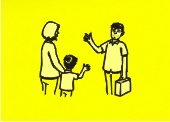 Communication on both sides is extremely important. Parent's involvement in child's activity ensures them about the confidence they have in their child. The way in which any organization interact with parents affects the extent of parent's home involvement with their child's learning.
Not only academic but parents can also assess their child's performance in curricular activities such as sports activities, essay/poem writing, dance competition, etc. which helps parents to judge the overall development of the child.
We believe that parents are also very important part of education system. eMLi makes parents take interest in their child's progress which is eventually betterment of students only.
Key Functionalities:
Summary of student's grades
Assignments
Project submission
Involvement in curricular activities
Current academic progress
Separate PANEL
Statistical Reports
Curricular Activities
Assignments
---
Suggestions | Complaints | Remarks